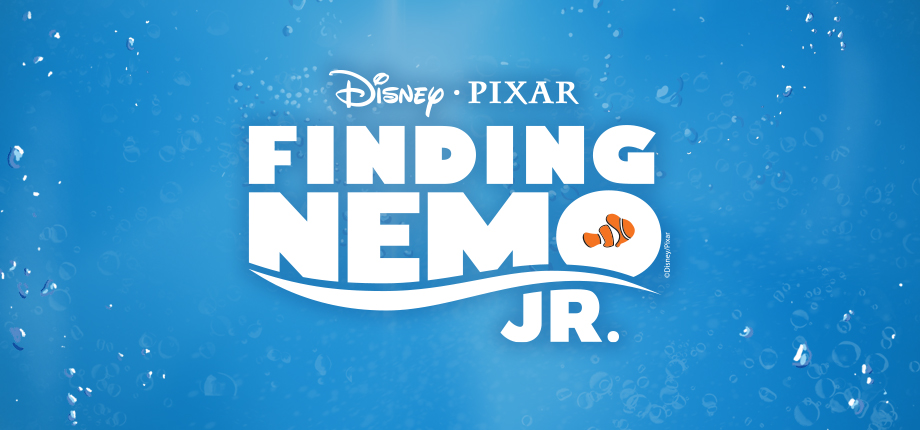 Finding Nemo, Jr. Cast List
Congratulations to the following cast members:
Nemo – Delaney Shanley
Marlin – Clare White
Dory – Sophia Campos
Coral/Grouper – Ainsley Brown
Professor Ray – Gordon Lind
Bruce – Alex Gaertner
Chum – Addie Repanshek
Anchor – Garrett Anderson
Gill – Sima Ozdoganlar
Bloat – Bella Mays
Bubbles – Mary Buck
Gurgle – Macie Morey
Peach – Hannah Lin
Nigel – Ashok Venkat
Crush – Nora Davis
Squirt – Eva Sigurdardottir
Kai/Sea Turtle 1 – Julia Ferriolo
Breeze/Sea Turtle 2 – Lys Tona
Angelfish – Avery Sechler
Damselfish – Samantha Minton
Scuba Mask Dancer – Rose Nelson
Sheldon/Seahorse 1 – Kate Buschmeyer
Sheldon's Parent/Seahorse 2 – Dhaniyasree Thiyagarajan
Pearl/Octopus 1 – Nini Sigurdardottir
Pearl's Parent/Octopus 2 – Amelia Oddo
Tad – Mason Hartner
Tad's Parent – Mason Ryms
Moonfish 1 – Simran Shah
Moonfish 2 – Abigail Remensky
Moonfish 3 – Hailey Paulson
Moonfish 4 – Lydia Bunn
Moonfish 5 – Grace Elewononi
Moonfish 6 – Rachel Neff
Lobster 1 – Egan Thyen
Lobster 2 – Lucy Hughes
Electric Eel 1 – Sydney Keebler
Electric Eel 2 – Antara Misra
Vacationer – Elijah Blake
Barracuda – Abigail Heinritz
Dance Captains – Sophia Borowski & Allegra Fiochetta



The Full Cast List:
Garrett Anderson
Elijah Blake
Sophia Borowski
Ainsley Brown
Mary Buck
Lydia Bunn
Kate Buschmeyer
Sophia Camos
Sophia Capozzi
Nora Davis
Deetya Deepak
Colbie Edmond
Grace Elewononi
Salem Elewononi
Acid Fenk
Julia Ferriolo
Allegra Fiochetta
Bria Fischer
Alex Gaertner
Mason Hartner
Abby Heinritz
Bethany Herman
Lucy Hughes
Lauren Jo
Rose Karavlan
Lily Klaus
Eugene Lee
Hannah Lin
Gordon Lind
Julie Lindway
Erin Lynch
Bella Mays
Samantha Minton
Antara Misra
Macie Morey
Bryce Munroe
Rachel Neff
Rose Nelson
Amelia Oddo
Samantha Oeler
Sima Ozdoganlar
Hailey Paulson
Abigail Remensky
Addie Repanshek
Emma Ruby
Mason Ryms
Avery Sechler
Simran Shah
Delaney Shanley
Kinjal Shelar
Eva Sigurdardottir
Nini Sigurdardottir
Dhaniyasree Thiyagarajan
Egan Thyen
Lys Tona
Ashok Venkat
Clare White

Ensemble groups and any additional roles will be assigned near the start of rehearsals. We'll rehearse Monday evenings, Thursday evenings, and Sunday afternoons starting the first week of school in August. We are so excited!!!!